Moving into a new home is a new beginning. It is a fresh feeling and much new hope. When everything is a fresh start, the housewives and the homemakers become very excited about their new kitchens. The home's central hub is where many exciting things happen and much conversation occurs. Therefore, it needs to be unique too! This article will discuss all the kitchen appliances for new homeowners that will make your life much easier when you organize your dream kitchen.
Kitchen appliances for first-time homeowners
Buying new kitchen appliances for a new house is tricky. It would be best to understand what you need before you purchase the machines you think you will need for the rest of your lives in the new house. Here are a few exciting tips about what you will need.
New homeowner kitchen appliances checklist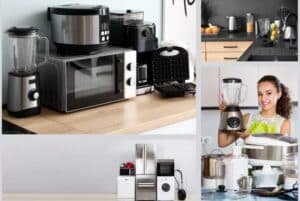 Starting afresh in a new house is a real opportunity to build up your dream home perfectly. The kitchen is extraordinary and prominent, as much action occurs there. So, it is the perfect time to organize your kitchen how you want. The regular kitchen space can be transformed into the most exciting space if you think creatively and wisely. You need to figure out the activities that will frequently happen in your kitchen space. This will help you a lot with getting in touch with the most useful utensils for your kitchen. 
Before making a checklist of what you need, it is essential to see what you consider when you make your checklist of appliances for the new space. 
It is always good to go for the higher quality products. Look for the brands of high quality. They might be a little higher in price, but it will save cost in the long run as the repairs will be much less. Also, the service guarantees and availability of warrantees will be an added advantage when you purchase higher-quality products. 
Which options are the best? Traditional or modern?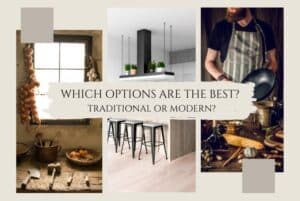 When you get the equipment for your kitchen, you need to consider whether to go for traditional or modern equipment. This will also depend on your taste and the food culture you follow. Some would prefer conventional food-making mechanisms due to the taste and flavor quality. But if you are truly busy, you might use modern equipment. It is especially applicable to the methods of grinding and food processing. So, when you list the equipment, you must also remember this fact. 
Think of what you need for the kitchen. It is always good to get what is most required than staking up all the unnecessary equipment. 
Another essential fact is that you should clearly understand the space in your new kitchen area. It would be best to have a good picture of the dimensions before purchasing the kitchen appliances. They need to fit into the space available. So, you need to see the items required and the sizes of those to fit into the open space perfectly. 
The safety of the equipment is another priority. Also, your safety should be considered, especially with knives and other sharp objects. The equipment made out of suitable materials and strong handles is a must. You must also consider the power supply and safety if they work with electricity. 
Take your time buying the equipment.
First, learn more about the supplier, their level of service, testimonials, and related articles about their after-sales services, etc.. the supplier's reputation is essential when you are ready to spend a large sum to buy the highest quality product.
Select the equipment that is easy to maintain and use.
They should be easy to clean and store. 
Cost and energy efficiency is also an important fact.
When you move into a new house, consider saving energy by buying energy-efficient equipment. As it is a fresh start, this is a beautiful start to pick the ideal product from the beginning. 
Before listing the equipment needed for your new kitchen space, anyone must consider these facts. 
Kitchen appliances for new homeowners on a budget
When you plan your new kitchen space, it is essential to know the budget so that you will spend only on the most critical items. Also, if you love minimalism, you know what to consider and avoid.
A few points to consider if you plan to buy kitchen utensils on a proposed budget
First, you should detail your budget with the requirements in mind. And, at this point, you need to stay focused to make the purchases productive. Though an initial cost will save you money in the long run, the brands and models of high-quality kitchen appliances are. It will save you from regular repairs and replacements. Consider their finishes and features as they cost. If you set your budget before shopping, it helps you to purchase the most needed.
Do your research before you make your list.
Always look for the reputed manufacturers and their products. They do not compromise quality over price. So it can be a significant saving in the long run. 
Only buy at a time.
You indeed get tempted with all the modern finishes and features of the equipment. But you need to remember the space you have and the requirements. Your home needs should be the priority at this point. 
Avoid impulsive buying. 
What you buy should be convenient to you when you use it. So, avoid impulsive buying. 
You must understand the requirements and needs you try to fulfill from the kitchen appliances on your list. Some come with a multi-functional option. But if the condition is essential, spend only what is necessary on a requirement that you think may arise in the future. 
You must be wise and intelligent when looking for the items you need. Wise can be challenging to use. The latest techno gadgets may need time to devise the most convenient methods. Knowing them well, especially the intelligent features, is always better before purchasing any smart device for your kitchen. 
Best kitchen appliances for new homeowners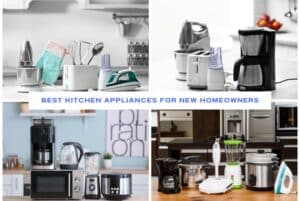 What kitchen appliances do I need for a new house? 
Have you ever thought about it? There are a few essential supplies that one needs in a new home. Those are the basics that you should have for your day-to-day needs. But having the right kitchen appliances would save your day, primarily if you work and manage the household. Also, remember the recipes frequently made in your kitchen and the food culture you follow. It would make getting the most needed appliances to fit your budget much more accessible. 
Kitchen appliances for first-time homeowners
These are a few essential kitchen appliances for new homeowners that you will need in your new home. Besides these gadgets, you would need cutlery and other utensils like pots, pans, and cookware for your meal preparations. The dinner sets, and other items can be purchased according to the number of members in your family. 
Kitchen appliances for new homeowners with small kitchens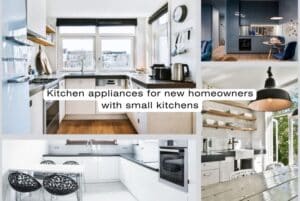 It is essential to consider your kitchen size when you plan on buying the needed equipment. It would be best to look for the out with this particular requirement in mind. 
If you buy a refrigerator, you can pick the suitable size; the counter depth would fit seamlessly into your small space. Also, the mini-me is very small in size, and it is a little brother version of the regular refrigerator. The dorm-style would be ideal for a small space and can store rather large amounts. But it is much less than a standard refrigerator. You could also think of the micro type attached to a microwave. It would help you to kill two birds at once. The microwave drawer is another space-saving type. It fits perfectly in the cabinetry.
Choose a modular cooktop or petite oven to match your space if you want ranges. 
It is the same with the dishwashers. The cabinet type, on-the-go, single, or double drawer are the types you can think of. Ensure you get the best option according to the kitchen's requirements and space.
A multi cooker would be handy as you can fulfill many cooking requirements. It will save space, time, and money. 
Besides the main items, you will also need the regular cookware and cutlery. This also depends on your storage space and the family member's requirements. 
When you look for small kitchen appliances for new homeowners, stick to the space requirement. If not, the kitchen would be clean and open. If you like it neat and clean, you have to get the minimum requirement in the best quality. 
Kitchen appliances for new homeowners with families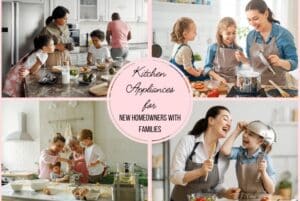 The situation changes if you have a family living in your new house. It needs more planning before you buy the appliances as the requirements of the family members differ, especially when you have kids at home. The best thing is to note down the actual requirements with the budget. Please take your time buying them. It is always better to research, evaluate, and finalize the list with the most needed things for your kitchen. 
Here are a few key factors to consider.
The meal plans have to align with the equipment. 
Will the kids use them? If so, the operating systems have to be less complicated.
This equipment should save energy. 
Space and architectural layout of the kitchen
When you have a family with kids, the requirement for food and snacks is very high. So the time spent in the kitchen is much longer. We have listed a few essential pieces of equipment needed for a family. And they are the must-have kitchen appliances for new homeowners.
Refrigerator.

Cooker/ stove

Oven

Blender

Food processor

Coffee maker

Dishwasher
These are the key items that would be essential for a family. As the number of members is high, you need to consider that as a critical fact when buying other utensils like dishes, plates, etc. They also should align with your meal plans and busy daily routines. 
Kitchen appliances for new homeowners who love to cook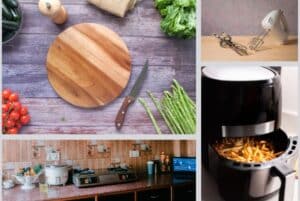 If you love cooking, the needs are slightly more than a regular home. You might need a few extra items besides the abovementioned basics. The cooking frequency and the amounts would impact deciding on the essential things. You might also need the items below besides the freezers, refrigerators, ovens, mixers, and blenders. 
Different types of knives

Chopping boards

Dishes and plates of various kinds. 

Food processor

Air fryer

Multicooker

Hand mixer

Baking dishes

Rice cookers

Toasters, waffle irons, and mini grills
These items are the most essential for your food preparations. Also, you need to be brilliant at this point. Sometimes, you can find devices or gadgets that have multiple functions. For example, you may get a toaster with a mini grill and a waffle iron in the same items. So, they are convenient to serve all your needs and save space and money. So, do more research before impulsively buying the essential things. 
Kitchen appliances for new homeowners who love to bake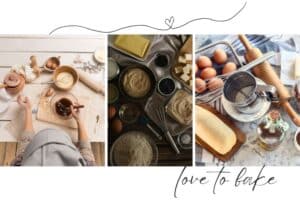 Similar to cooking, baking is a critical point to consider. You need first to think about how often you bake. And the most frequent items you bake. You can then make a list accordingly. 
The oven is one of the essential items that you need in your kitchen.

The hand mixer 

Baking trays

Molds and cutter sets

Bowls

Proper measuring tools 

And a few storage containers are the most essential items on your list. 
If baking is your pleasure, having a separate space organized for all the items you need for baking is always good. 
So think of that space and get the appliances organized. Same as with every other kitchen utensil, it is always better to check the reputation of the manufacturer and also the brands. The buyer testimonials are also essential to know about the product in advance. Doing some research will be well-spent if baking is a frequent activity at your home. So, keep in mind to go for the best products. Investing in a quality product would save a lot in the future.
Smart kitchen appliances for new homeowners
Now, with the development of science, many of us have access to intelligent gadgets. It is identical to the kitchen appliances. Seeing the number of new brilliant items available for your kitchen is surprising. Here are a few fantastic ideas!
The food cycler or the automatic food composter is an ideal way to eliminate food waste productively. It is a portable equipment that can fit your small kitchen and does the job perfectly and quietly. 
The automatic pan stir is another wonderful gadget that saves time and energy. You can continue your work while the pan stir works perfectly in the kitchen.
The automatic ice cream maker is one of the best options for a beautiful home treat.
The multi-task oven is another great device to have in your home. It has the facilities of an air fryer, convection oven, slow cooker, broiler, toaster, dehydrator, and warming drawer. And it fits perfectly on your countertop.
The smart toaster suits all the toasting options you need in your meals. It will help you with bread, meat, and other foods you wish to grill or toast.
Aero garden or the indoor garden carrying all the herbs you need in your meals would act perfectly, helping to store the spices fresh and pleasing for your meals. 
There are many more, and these are a few excellent, smart gadgets you could have in your home. 
Energy-efficient kitchen appliances for new homeowners 
While making your list and finalizing your budgets, think of other modes to save your costs. Using energy-saving products would be a great relief for your wallet. When you purchase your refrigerators, dishwashers, blenders, and other electronic kitchen equipment, remember to check especially on the energy-saving items. 
Our descriptive article will help you as a guide for you to pick the most essential and the best quality products for your kitchen in your new home.